Japanese Fairy Tales by Yei Theodora Ozaki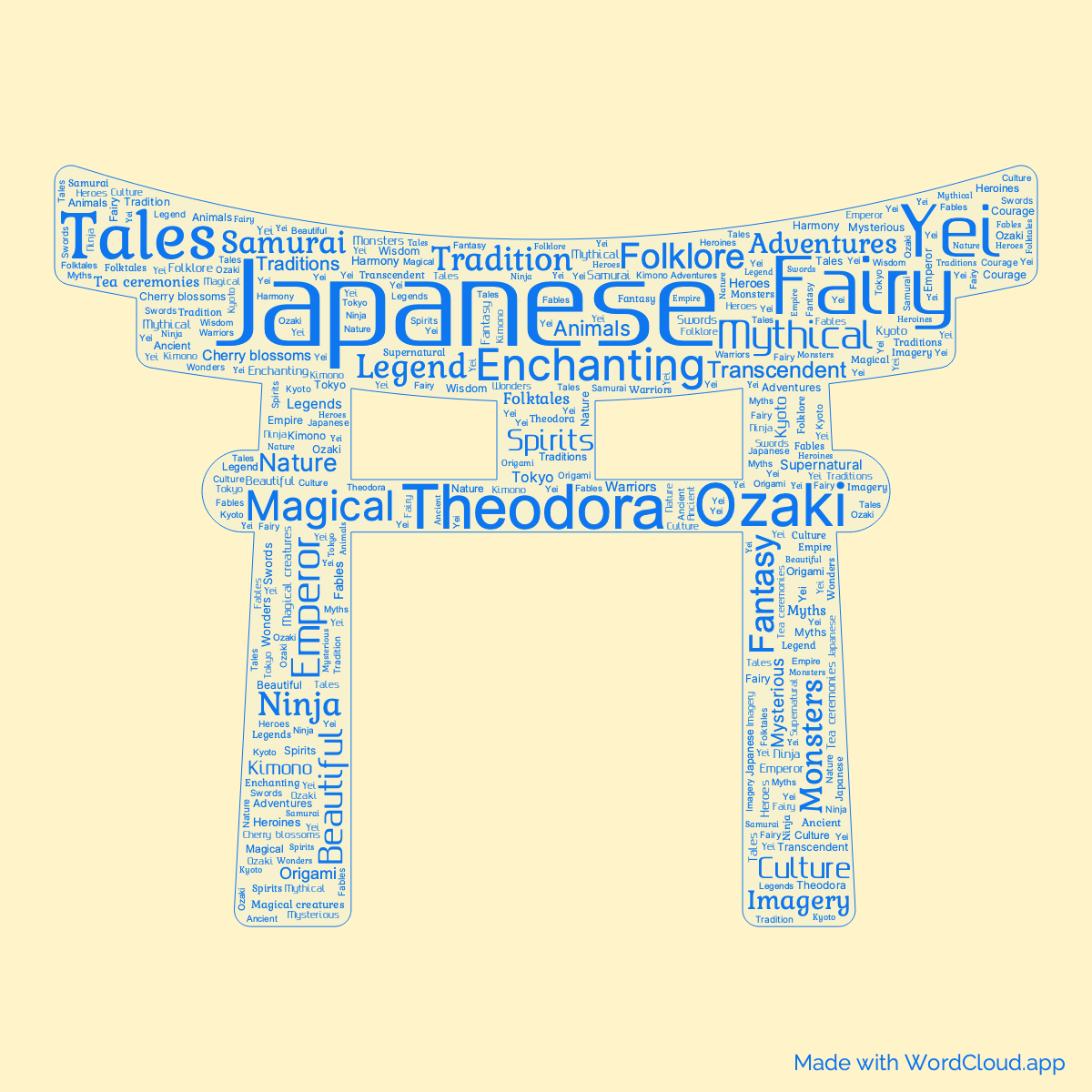 Let WordCloud.app help with book analysis
Want this on a T-shirt or a mug?
See what it looks like!
If you're a fan of folklore and enchanting stories, then "Japanese Fairy Tales" by Yei Theodora Ozaki is a must-read. This captivating collection of traditional Japanese tales brings to life a rich tapestry of mythical creatures, brave heroes, and captivating adventures.
What makes this book truly special is the seamless blend of Japanese culture and storytelling. From mischievous foxes to courageous samurais, each tale delves into the heart of Japanese tradition, captivating readers of all ages. The vivid descriptions and relatable characters transport you to a world filled with wonder and magical creatures.
With its timeless tales and engaging narratives, "Japanese Fairy Tales" will appeal to anyone with a love for folklore, adventure, and the mystique of ancient Japan. This book offers not only entertainment but also insight into the cultural heritage of Japan, making it an excellent choice for both children and adults alike.
Unleash your creativity and dive into the wonderful world of "Japanese Fairy Tales" with WordCloud.app. With our easy-to-use platform, you can create your own personalized word cloud based on this enchanting book or any other piece of text that speaks to you. Let your imagination run wild and explore the magic within the pages of this captivating collection.
Words used in the word cloud
Japanese
Fairy
Tales
Yei
Theodora
Ozaki
Enchanting
Magical
Mythical
Tradition
Legend
Folklore
Emperor
Ninja
Samurai
Monsters
Fantasy
Adventures
Beautiful
Imagery
Culture
Spirits
Nature
Transcendent
Animals
Traditions
Mysterious
Folktales
Kimono
Origami
Tea ceremonies
Cherry blossoms
Tokyo
Kyoto
Myths
Legends
Warriors
Supernatural
Heroes
Fables
Magical creatures
Heroines
Swords
Ancient
Wonders
Harmony
Empire
Courage
Wisdom