Blood Canticle by Anne Rice: A Captivating and Mysterious Journey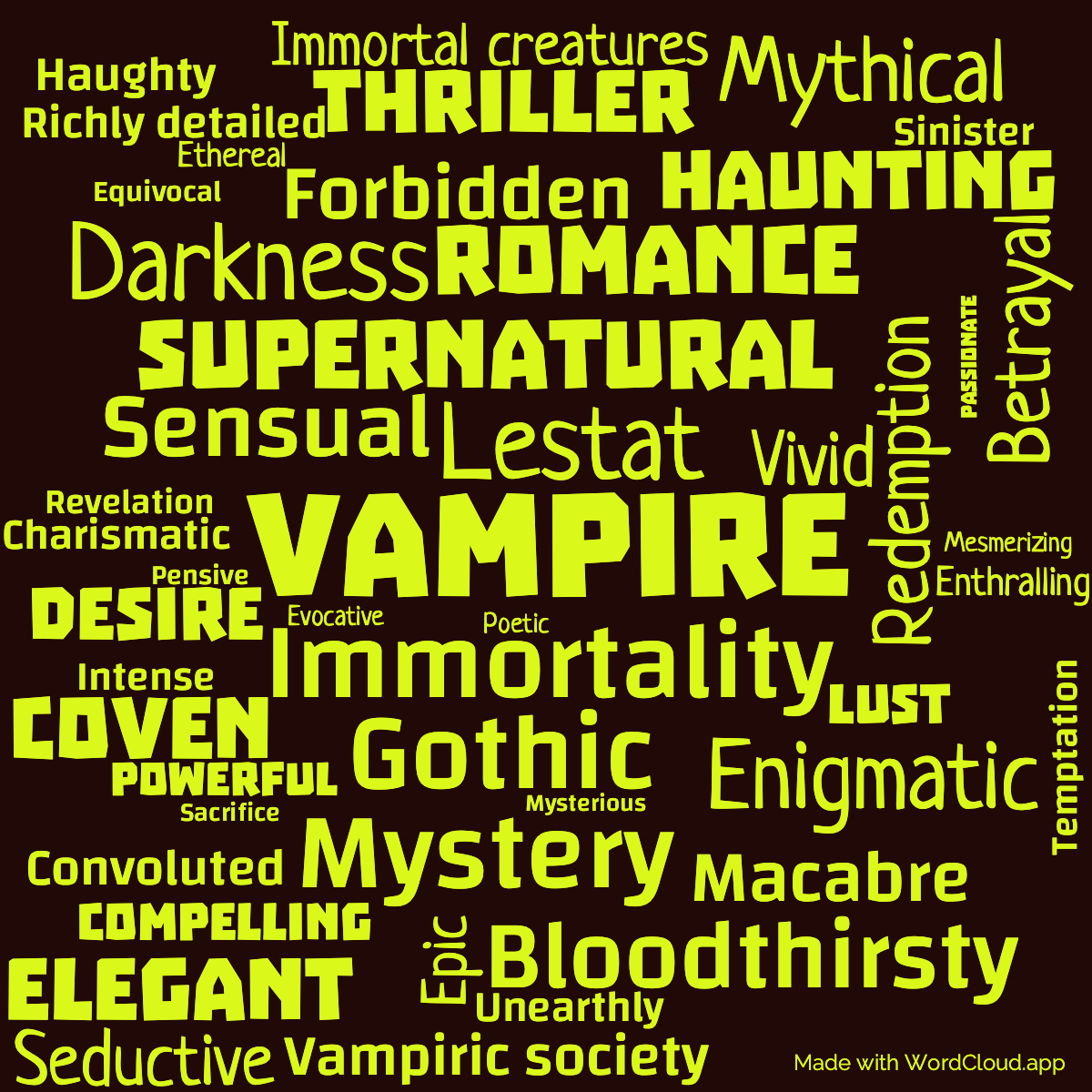 Let WordCloud.app help with book analysis
Want this on a T-shirt or a mug?
See what it looks like!
Experience the enthralling world of vampires and spirits in Anne Rice's novel, Blood Canticle. Set within the realm of her iconic Vampire Chronicles series, this book takes readers on a mesmerizing journey filled with love, betrayal, and newfound alliances.
Blood Canticle delves deeper into the life of Lestat de Lioncourt, the charismatic and immortal vampire, as he becomes embroiled in the secrets of the Mayfair witches. Rice expertly weaves together supernatural elements, immersing readers in a vibrant and hauntingly beautiful universe.
This book will appeal to those who relish dark fantasy, intricate storytelling, and rich character development. Fans of Rice's previous works will find joy in revisiting familiar characters and witnessing their intertwining destinies. With its lyrical prose and alluring atmosphere, Blood Canticle is a must-read for vampire enthusiasts and lovers of Gothic fiction.
Create your own word cloud inspired by Blood Canticle or any other book of your choice! WordCloud.app allows you to generate stunning visual representations of texts, highlighting the most frequently used words. Uncover hidden patterns and gain new insights into your favorite books. Let your imagination soar with WordCloud.app!
Words used in the word cloud
Vampire
Lestat
Immortality
Supernatural
Gothic
Romance
Mystery
Darkness
Bloodthirsty
Enigmatic
Coven
Thriller
Elegant
Sensual
Haunting
Mythical
Betrayal
Desire
Redemption
Forbidden
Vivid
Seductive
Macabre
Immortal creatures
Lust
Epic
Vampiric society
Compelling
Convoluted
Powerful
Haughty
Richly detailed
Charismatic
Unearthly
Enthralling
Sinister
Intense
Temptation
Revelation
Ethereal
Equivocal
Mesmerizing
Poetic
Evocative
Pensive
Sacrifice
Mysterious
Passionate
The Lives of the Mayfair Witches series (3 books)
New Tales of the Vampires series (2 books)
The Life of Christ series (2 books)
The Vampire Chronicles series (10 books)